Biography and Family History for Avi Raanan
I'm 60 years old (born in Bucharest) and now live in Israel.
Until recently, Czernowitz period of my mother (and her family) was a "black
hole" with little knowledge and no motivation to "dig in to the past". This
is also true about the period in Bucharest before arrival to Israel in 1958.
Too much agony, to many tears from mother, and no motivation from me to ask!
For my 60th birthday celebration, my wife and kids make me a present - A family trip,
with my children and my granchild, to my roots in Bucharest and mother's
roots in Czernowitz!
Then I realize the very little knowledge I have about the place, the people
the family. Unfortunately most of the family who was able to tell from
direct experience is no more with us. Only my uncle Shalom Katz is alive and
I learned a lot of info from him. But he also didn't remember some of the
details.
The forum the web provided me with a lot of stories and valuable info.
I succeeded to identify the street were my mother's family live, where her
grandfather live (Yudengasse) , even in the Ukraine maps - of course with
different names.
Now I'm looking to try and find:
1. The school she was attendaning. I don't have the name of the school.
and
2. The Bus company my grandfather (Simplon? - not sure about the
name),.Samuel Katz own until confiscated by the Russian in 1940.
---
My late mother Feige (Foggi) Katz, was born Sept 1922 in Czernowitz . The
family was living on O. Iosip st or Steingasse. The roots of the Katz family are
from Sadigura.
Her family:
Parents: Samuel (Sammi) Katz married to Esther Blanc.
Sister Miriam born 1930.
Brother Shalom born 1932.
My grandfather , Samuel was the owner of bus company named Simplon ? (not
sure - living relatives don't remember exactly).
They run away from Czernowitz on Pesah 1944 a few months after 2nd Russian occupation
to Bucharest.
Mother's aunts & uncle (Sisters & brother of Samuel):
Katz Rosa
+ Scharf Osias
Katz Regina
+ Landman Shlomo
Katz Ethel (Adela)
+ Galperin Solomon (Shlomo)
Katz Hersch
+ Rivka
Avi Raanan (formerly was Frisch)
Givat Schmuel ,Israel
---
Katz family & friends photos

Photo M1: Mother+school friends ~ 1939-40
Photo M2: Mother+friends Vatra D. July 1939
Photo M3: Mother+Grandfather+her mother+Shlom&Miryam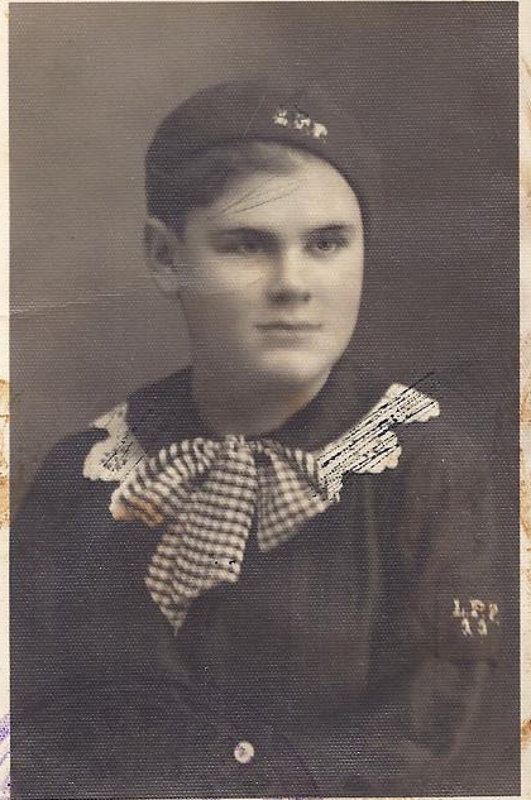 Photo M4: Mother in School uniform



My Grandfather Samuel Katz



My Grandmother Ester Katz's permit to stay in Czernowitz - 1941